Housewarming Gift Ideas For Men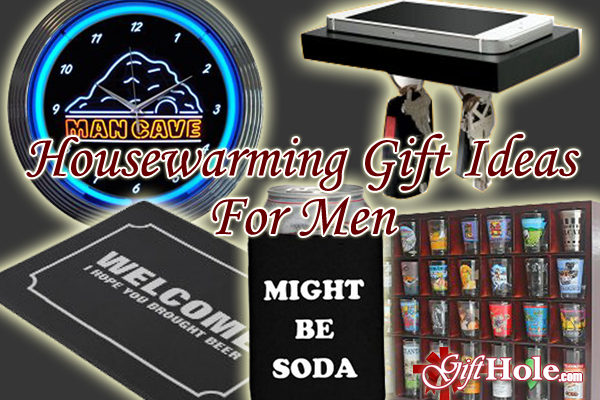 Housewarming Gift Ideas For Men
For some reason, there are people who think it's hard shopping for guys, and when it comes to housewarming gift ideas, they struggle even more. Well, struggle no more! Here are a bunch of great last minute housewarming gift ideas for guys.
Whether it's whiskey glasses or glasses in general, getting them a set would probably be needed if they're just moving to a new place.
If you're going to get them whiskey glasses, go for limited edition ones like the Circleware Bentley Whiskey Glass Drink Cup, Set of 4, 10 Ounce Drinking Glasses, Limited Edition Glassware Drinkware
And what would go great with whiskey glasses are…
Whiskey Stones Gift Set Box
Do they like whiskey on the rocks in their new glass you just got them without it being watered down? Well, this Bellavanti Whiskey Stones Standard Gift Box
would be a perfect gift for whiskey, scotch and bourbon drinkers. This box is a set of 9. And it's a perfect pair to go with whiskey glasses.
Man Cave Wall Clock
Am I the only person who doesn't have a wall clock? Well, I would have loved it if someone got me this Man Cave Neon Clock
! It's a clock and a nightlight for the those middle of the night trips to the bathroom.
Magnetic Key Holder
Do you know someone who's always misplacing their keys or cell phone? Get them a Plank Floating Cell Phone Wall Mounted Wood Shelf With Magnetic Keyhook
and they won't lose it again… well, at least not at home.
And they don't have to worry about key hooks because this key holder is magnetic!
Kitchen Utensils Sets – Home Cooking Tools
I guarantee you that the guy you're getting a housewarming gift for does not have all these home cooking tools in this 22-piece Kitchen Utensils Set
. Matter of fact, they probably won't have half of these! But if they're going to cook more than ramen, they'll be thankful you got them this.
Funny Door Mat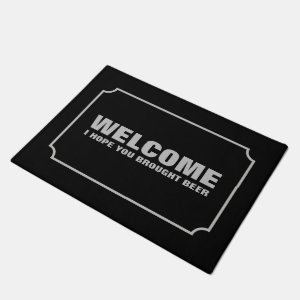 An awesome housewarming gift that their future guests will get a good kick out of is the "Welcome – I Hope You Brought Beer Doormat". Not only is a good for wiping dirty shoes but it also serves as a reminder for guests to bring a six-pack with them the next time they come over!
Funny Cutting Board
There are plenty of funny cutting boards available for any cook but if you're getting a housewarming gift for a sarcastic guy then this "Chef Here to Feed Your Ass Not Kiss It" Cutting Board
would be perfect for them!
Though, be prepared to get reminded whenever they're feeding you. 🙂
Funny Beer Cozies or Coasters
They'll be reminded of you each time they drink a cold one with this Funny Beer Quote Cozy Set
. On top of that, their friends will get a good kick out of it too next time you hand them a beer in this cozy.
Bluetooth Shower Speaker
Who doesn't like to listen to music and sing while they're in the shower? Help drown out some of their bad singing by providing them with this waterproof Bluetooth Shower Speaker
. You can control everything from inside the shower so no more reaching out getting your phone wet to change a song.
Fun Bottle Opener
What better way to open beer bottles than turning it into a game! Get them this Bottle Opener Cap Launcher
and be prepared for battle.
Star Wars Jedi Bath Robe
Are you getting a housewarming gift for a Star Wars fan? They will absolutely love this Jedi Star Wars Bath Robe
if you get it for them.
I'm not going to lie, I pretty much want one as well!
Shot Glass Display Shelf
I have a bunch of friends who collect shot glasses, especially from every state or country they've visited. If you know someone similar to that then getting them this 28 Shot Glass Shooter Display Case Holder Cabinet
would be a great housewarming gift!
A Bottle Or Beers
Worst case, you can never go wrong with getting them their favorite liquor or beers. Of course, I'm sure you'll be drinking it with them!
Feel free to share your housewarming gift ideas for men in the comments below!