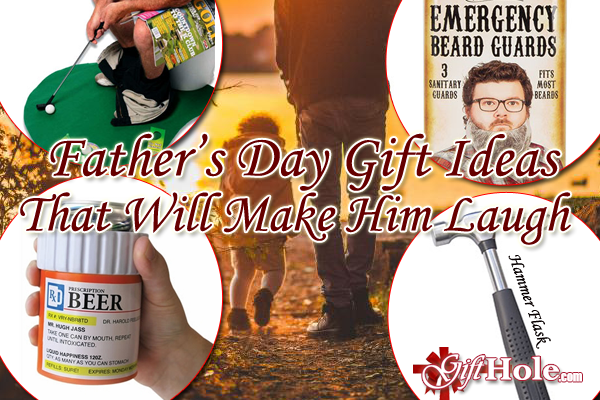 Father's Day Gift Ideas That Will Make Him Laugh
Father's Day 2016 is right around the corner and sometimes it's hard coming up with the perfect gift idea for your dad. Don't worry, we got you covered! If you need some gift ideas that will make him laugh and enjoy, then check out our list of funny Father's Day Gift Ideas below!
Hammer Flask
If your dad is a handy man and loves his liquor, this Hammer Flask is what you want to get him! Just imagine him hammering a nail into the wall to put on a painting and then he rewards himself with a nice shaken drink after that hard work!
Couch Potato Scratch-A-Matic
Has your dad ever mentioned that he was lazy or you know he's a couch potato at home? Get him this Couch Potato Scratch-O-Matic so he doesn't have to even scratch his own butt or pick his own nose!
Lazy Man's Beer Mug
Speaking of lazy, you can remind him every single time he takes a long sip of beer with this The Lazy Man's Beer Mug.
Emergency Beard Guards
For those dads that have beards and constantly get things like food stuck in them, get them these funny Emergency Beard Guards and we're sure he's going to get a kick out of it.
Or at least you and the rest of the family will!
Potty Fishing
What better and funnier way to use the toilet than to go fishing while on the throne? Get your dad this Potty Fishing and tell him to put down his cell phone and practice on his retirement with some fishing!
If that doesn't work, there's always the…
Potty Putter
If he doesn't like fishing while sitting on his throne then get a quick round in with some Potty Putting!
And if that doesn't work, try…
The Potty Piano
Matter of fact, this Potty Piano is probably a fun gift idea for just about anyone. I mean, it would be hilarious hearing piano tunes while the bathroom room is closed!
Golf Ball Detecting Glasses
Dads aren't getting any younger so looking for those golf balls are going to get harder. Help him out by getting these Golf Ball Detecting Glasses that highlight where he hit that ball… hopefully it's still on the green though!
Prescription Pill Bottle Koozie
If your dad is a beer drinker, he probably already thinks they work just as good as prescription pills! You might as well play into the joke by getting him this Prescription Pill Bottle Koozie.
If you want to take it a step further, get him this entire RX Collection that includes prescription shot glasses, prescription beer koozie and prescription coffee mug!
Cave to Cave T-Shirt
From the cave to the man cave, this Cave to Cave T-Shirt would be a perfect Father's Day gift for any dad that has an actual man cave.
These last minute Father's Day gift ideas will definitely make him laugh!