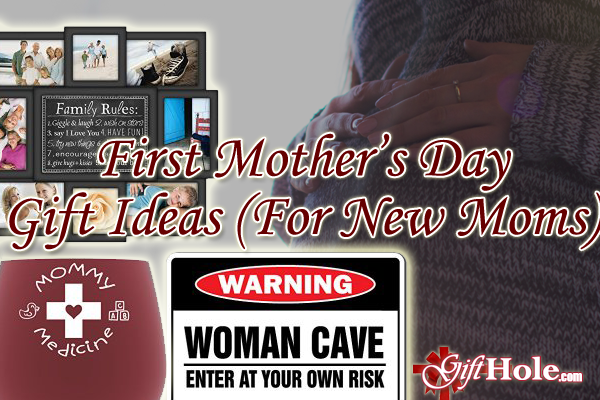 First Mother's Day Gift Ideas (For New Moms)
Mother's Day is less than a week away and if you're still looking for last minute gift ideas specifically for first time moms then we are definitely here to help you out!
We broke down this Mother's Day Gift Ideas For New Moms into two parts – generic gifts that anyone can get new moms and gifts the new dad can get for them to make it a little easier (particularly for the new dads).
Gift Ideas For New Moms From Anyone
Wine with Funny Wine Glass
If you know her favorite bottle of wine, I'm sure she's been waiting it for a while especially since she's a new mom and probably has her hands full! Make a joke out of it and get her this Funny Mommy Medicine Wine Glass
I bet she'll love it!
Bath Bombs Mothers Day Gift Set
Bring the spa and relaxation to her! These bath bombs are a great stress reliever, helps with dry skin and she'll enjoy the relaxation with every bath she takes!
Favorite Food From Their Favorite Restaurant
More than likely she hasn't really had time to dine out, especially at one of her favorite restaurants since she's a new mom, so I'm sure she'll be so happy if you brought her favorite meal to her!
The Book – How to Traumatize Your Children
Make sure she has a good sense of humor before you get her this book. If she does, she'll probably laugh uncontrollably and it'll be great for her and her husband!
WOMAN CAVE ENTER AT YOUR OWN RISK Warning Sign
She's going to need and want this sign especially when she needs her own personal time alone. Plus, what mom doesn't want her own woman cave sign?
Gift Ideas For New Moms From The New Dads
Time and Relief
Give her time to herself to relax, unwind so she doesn't have to worry about a thing. Take care of any chores, cooking, when the baby needs attention, etc.
Breakfast in Bed
Surprise her with breakfast in bed! But just remember to let her sleep in because we're sure any new moms could use that extra rest!
Babyprints Collage Frame with Clean Touch Ink Pad
You guys have probably taken tons of pictures of your newborn already so why not make it extra special with foot and hand imprints with a picture of your child. She'll love it!
Picture Collage Of New Baby's First Year
Babies change so much especially in the first couple of years so putting together a collage from when he/she were born until the present day would be something she would cherish.
The image above is this Collage Black Picture Frame
.
Activity She Wanted To Do But Couldn't When She Was Pregnant
Did she want to go to a wine tasting but couldn't? Maybe she wanted to attend an upcoming comedy show she's never been to before? Whatever it is, you should know and treat her to whatever it is. Grab a babysitter and take her or offer to take care of the baby while she goes with her friends.
Personalized Sterling Silver Birthstone Necklace
Personalize a necklace with the birthstone of your baby so she can wear it wherever she goes. She'll love it, especially when you personalize it specific for her. She'll think you're thoughtful because you are!
There are just so many last minute Mother's Day gift ideas out there. In case you're looking for more Mother's Day gift ideas, check out Gifts for Grandma on Mother's Day and Last Minute Mother's Day Gift Ideas.
Happy Mother's Day!