Funny Valentine's Day Gag Gift Ideas For Him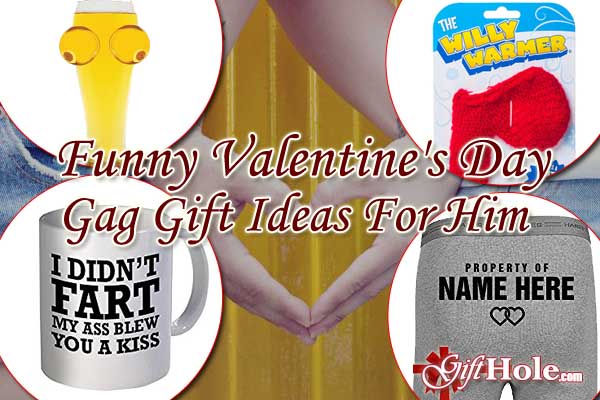 Funny Valentine's Day Gag Gift Ideas For Him
Valentine's Day is supposed to be about love and celebrating it with that special person. Of course, sometimes you just want to do something fun, especially if you want a good laugh. A perfect way to do this is getting him a funny Valentine's Day gag gift! If you're looking for some great ideas, here are some awesome ones for you!
The Willy Warmer
It's exactly what the name says and the picture shows. If this doesn't make both of you laugh then I don't know what will.
You can get the The Willy Warmer for $8.95 at Stupid.com
Property Of "Name Here" Boxer Briefs
Say "no" to name tattoos and yes to name underwear . In case he ever needed a reminder, having your name on his boxer briefs would be a hilarious Valentine's gag gift.
You can get these Property of "Name Here" customized boxer briefs at Amazon.
Elephant Underwear
In case that Willy Warmer just isn't quite doing the job, this Elephant underwear sure has to and it looks even funnier!
You can get the Elephant Underwear on Amazon here.
Boob Stress Reliever
Tired of him always touching your boob? Well, now he can literally have his own to squeeze, especially on those rough days in which he's stressed!
You can get the Boob Stress Reliever at Amazon here.
Boobies 'N' Beer Glass
Boobs and beer, what more can a guy ask for? Okay, he can probably ask for more but I'm sure he'll get a kick out of this gift for Valentine's Day and he'll actually use it on a regular basis!
You can get the Boobies 'N' Beer Glass at stupid.com
Man Bowl
I don't agree with this especially since it's saying he's a dog but if he happens to be a dog in the Chinese zodiac then that's where the joke comes in. Oh, who are we kidding, you're getting him this gift so you'll at least be laughing.
You can get the Man Bowl at stupid.com here
Valentine's Day Poop Emoji Shirt For Men
What better way to describe your love for him than to get him a shirt that says "I love the poop out of ya!" Exactly.
You can get the Men's Poop Emoji Shirt at Amazon here.
"I didn't fart, my ass blew you a kiss" 11oz Mug
You can get this "I didn't fart, my ass blew you a kiss" 11oz Mug at Amazon here
Those are some awesome Valentine's Day gag gifts ideas for your boyfriend and if he doesn't get a good laugh out of it, at least you and your friends will! But don't worry, I'm sure he'll laugh!